Top A12 iOS 12.4 Jailbreak Tweaks Free
The A12 jailbreak Tweaks for iOS 12.4 is finally here now we can finally the iPhone Xs 1Xs max and XR as well as the 2018 iPad pros ,anyway now that you are jailbroken I bet you are looking for stuff to install well here are some of the best free iOS 12.4 Jailbreak Tweaks that you can install right now on iOS 12.4 on your A12 devices.
iOS 12.4 Jailbreak Tweaks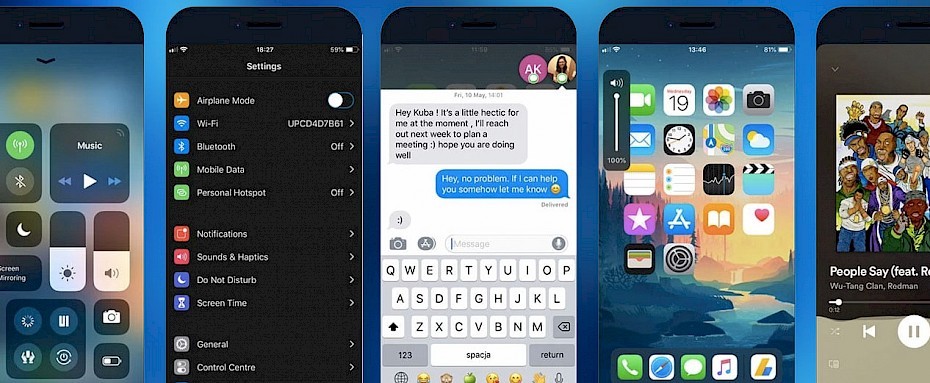 battery % X
Battery percentage will be there instead of the battery icon now this is achieved entirely free with the tweak called battery % X.
Fast unlock X
This one is one of my favorite with face ID devices this one's called fast unlock X when you have your device locked and you either tap to wake it or either use a side button whatever way .When you have face ID enabled when it normally recognizes your face you have to swipe up from the bottom of the lock screen but what this tweak enabled in constrast when your face is recognized with face ID the phone will automatically take you to the home screen no need to swipe .So it's just a quicker way to get into your phone without without actually having to swipe up.
Jumper
This is again a great tweak and it replaces toggles at the bottom to whatever you want it even allows you to set multiple icons down there at the bottom,so your guys can have multiple shortcuts enabled if you guys want on both sides.
Barmoji
I can't forget about this tweak this one is called barmoji for the iPhone X ,Xs XMax and XR specifically called Barmoji. 
Hide bar X
When you have tweaks like barmoji and things like that installed one thing you have to do is to hide the home bar indicator that is done entirely by this tweak called hide bar X.
CHROMA HOME BAR X
Another option that you guys can do is install chroma home bar X which basically cycles through a bunch of colors so if you guys want to have the home bar enabled at least have it colorful and eye pleasing.
TAPTIME
So another awesome one for the iPhone 10s is status bar up in the top left where the time is if you will tap on it where the time is it will show date.
NOTCHIFICATION
Another awesome tweak called notchification brings notifications around the iPhone notch and it was actually inspired by a reddit post.
FLOATINGDOCKPLUS
The great one that I like to have on iPhone 10 and I am sure I'm going to love this on iPhone XS and XSMAX as well it's called floating dock plus it will bring the iPad style dock to the iPhone.Now some of the awesome things about this is there's also dock gestures so if you swipe to the left that will bring your control settings and if you will swipe right that actually brings you back to the lock screen and then if you swipe up it enters multi tasking.This one is called iPad Style switcher .
NOTCTIS 12
Dock is dark and that's achieved bt Notctis 12 so let's go ahead and talk about some dark mode tweaks .Noctus is awesome because it not only darkens like your widgets your notifications and even in the control settings now there a lot of toggles like my volume and brightness toggles are dark as well and this is all achieved with one tweak and the cool thing.
ECLIPSE DARK MODE
This is what that brings dark mode to a lot of the stock and the third party applications like settings app and this is a great one for those LED displays.
MoonShine
One of the vert last ones that I wanted to bring up as far as just iPhone XS or just LED dark mode specific tweak is called moonshine .This basically brings the Apple watch charging indicator as well as the night stand mode to the iPhone and this looks absolutely incredible the night stand mode is awesome so when you are charging at night you have a quick glance at your iPhone time and charging status and notifications and thing like that.
Sim Parian
There is also a tweak called sim Parian which brings always on display to your iPhone but in my opinion it's pretty buggy and also drains the battery like no others because you have pixels on your phone on all of the time but where I like moonshine and contrast is night stand mode only activates when it's charging and plugged in.
So those are some tweaks I thought are just going to be absolutely incredible for the iPhone XS and XSMAX and any device with face ID.Now let's move on and just talk about some of my favorite tweaks my GO-TO Tweaks that I really like to install.
Jellyfish
One of my favorite is called Jellyfish which brings awesome lock screen .It  basixally rearranges the time and date and weather indicators.This one is paid but I think it looks sweet the colors of the time and date actually dynamically update depending on wallpaper that you currently have of course this tutorial wouldn't be complete without mentioning better CCXI which brings this awesome control center to the iPhone 10 basically redesigns the all the platters in the control center and I think it just looks absolutely fantastic and this one is actually called power module it is a very quick and easy way to perform respring center safe mode entirely reboot your phone and it's located directly within the control center and that one's actually entirely free so definitely check out power module.
Color banners 2
Another great one is called color banners 2 which basically colorizes all of your notifications based on the apps default color.I think it looks super sweet especially with the iOS 12 stacked notifications.
BOXY 3
A great tweak to create a custom home screen layout is called boxy 3 .You can choose how many icons you want in your grid.
Translucent messages
Another tweak called translucent messages .It works perfectly on iOS 12 and it basically takes the background wallpaper of your iPhone and blurs it and then puts it in the background of your messages.
 CLEAN HOME SCREEN:-
You can clean you home screen by on tweak called clean home screen .Again this is an awesome new tweak for iPhone 10.
Okay that's all of today I hope you like some of the best A12 iOS 12.4 Jailbreak Tweaks if you want more jailbreak tweaks or any other jaailbreaks tweaks on iOS 13 ,13.2.1 or iPhone jailbreak tweaks then feel feel to comment down below in the comment section Also you can like us on Facebook so you never miss an update.
There are some of the best Articles about iOS must read .